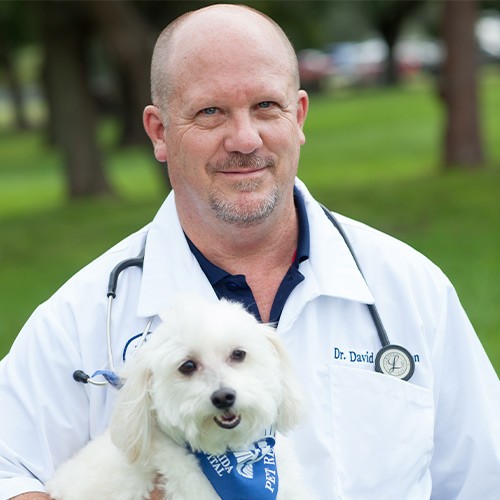 Dr. David Wilkinson
Dr. David Wilkinson received his Doctorate of Veterinary Medicine from Auburn University. After graduating, he returned to his hometown, Haines City. In 1987 he opened the Heart of Florida Animal Hospital and, with seeing a need for pet boarding in the area, opened the Pet Resort in 1996. Dr. Wilkinson provides high quality care for cats and dogs, however, over the years he has helped tigers, llamas, lions and snakes.
Community service is important to Dr. Wilkinson. He has served on Haines City's Community Redevelopment Agency board and has mentored teenagers who were interested in pursuing veterinary careers. He provides free vet care for Haines City's PD K-9 unit.
Dr. Wilkinson is married to his high school sweetheart, Connie, and has a daughter and son. He enjoys fishing and breeds boxer dogs. His love for animals started at a young age, having grown up his around his grandparents' farms, and is still evident today with having horses, dogs, cats, rabbits, ducks and geese at his home.
Dr. Wilkinson has been our veterinarian for years. He is the best on the area.

Rosie N.

Google

David Wilkinson has been caring for our animals for 27-28 yrs both farm & pets. When my son was 8, he was there on a late night call & saved his ferret's life, my doberman broke her leg, he expertly place a rod in her leg. He saved her life & gave her years of running joy. His staff is reliable & caring & many have been there long term. They will care for your pets like their own.

Sandra S.

Google

We have been going here for over 20 years. Dr Dave is more of a friend and vet. He has taken care of all my animals. Thru thick and thin operations and all. His staff is great and friendly. Everybody has been great even when we had to have them put down. I now have a new cat Lucy Lu that I just got from them.

Jess H.

Google